Your note-taker, sketchbook, and diagramming tool.
Paper by WeTransfer
For those who want to take simple notes, draw sketches, or annotate photos.
This one burst onto the scene and immediately became the darling of artists and non-artists alike. It is just so easy to pick up and start using, with or without a stylus. Its free price tag makes it an absolute must-download, though of course, in-app purchases unlock even more features. It's simply beautiful on the iPad's retina display and a pleasure to use.
Why we love it
Paper is simple to use and comes packed with a ton of useful tools that make note-taking, photo annotation, and drawing easy.
Your full art studio editor
You Doodle – draw on photos
For anyone who wants a complete art studio solution for their iPad.
You Doodle provides you with all of the tools that you need to draw on photos or add text. And with an Apple Pencil, you can get even more accurate results as you write the perfect note to go along with that photo of your best friend doing something silly. The app has a ton of features and tools to make the editing process fun and easy, and it's a great app for just having some fun with your images.
Why we love it
We like You Doodle because it is fun and simple to use. There is not much of a learning curve and you can get some great results in minutes.
Sketch and Write With Ease
Linea Sketch
For those who want to write and sketch on iPad in an uncomplicated way.
Linea comes with a wide range of pre-defined colors or you can customize colors with a single tap. Auto-generated tints and shades are also included. Simplified layers are easy to merge or rearrange. A Touch Eraser allows you to wipe the screen clean with ease.
Why we love it
There's a lot of sketchpad apps on the App Store and Linea doesn't offer anything new in terms of the features it provides. However, if you're new to digital sketching, Linea is a great product to consider.
Annotate with Ease
When you need to mark up a document quickly, apps for your iPad are ideal. Highlight, circle, or scribble a note on your PDF with these handy annotation tools.
GoodNotes 4
Time Base Technology Limited
For those who want an annotation app with fill and sign options for forms.
GoodNotes 4 lets you easily annotate PDF files as well as Microsoft Word and PowerPoint documents. You can handwrite notes on documents, highlight text, and zoom in to grab just the right area. The app also includes features for filling and signing forms, iCloud sync, and a convenient search.
Why we love it
GoodNotes 4 is a super easy-to-use tool for marking up documents, jotting down notes on them, and syncing across your devices.
For those who want an annotation tool with outline, mind map, and flashcard features.
For a robust annotation tool, MarginNote brings extra features to your mark-ups. You can annotate with highlights, sketches, comments, and more. The app includes outlining and mind mapping features, supports Apple pencil for jotting down notes, and lets you turn those notes into handy flashcards.
Why we love it
MarginNote is a terrific tool for annotating documents, exporting and syncing, and reading PDF and EPUB formatted files.
Handwrite Your Notes
If you still prefer to jot down your notes by hand rather than type them, try one of these iPad apps. You can use your own handwriting, plus keep your notes safe and in sync.
Penultimate is a one-stop note-taking hub
Penultimate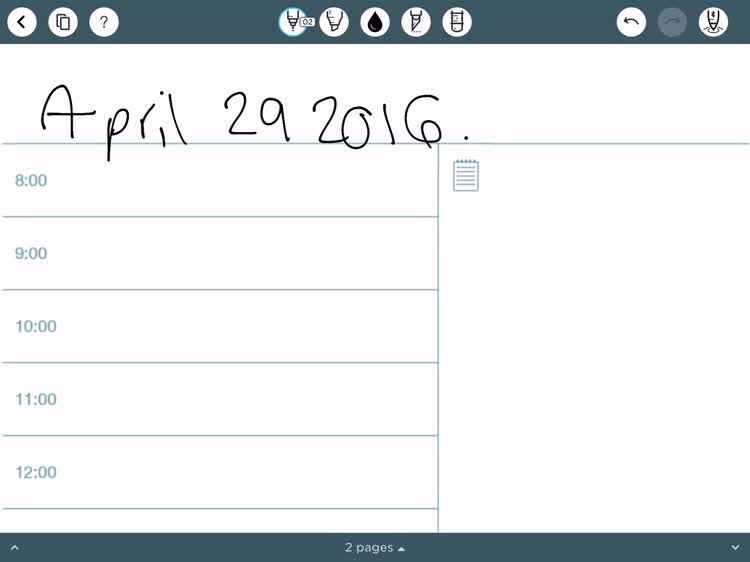 For anyone who wants to use handwritten notes and uses Evernote.
Penultimate is a pure handwriting app. It links with Dropbox and Evernote and has multiple paper styles, line thickness, and color options. The writing engine is smooth, but the palm recognition is only adequate. However, Penultimate doesn't have some features standard in other apps on the list, specifically the options to enter text via a keyboard or handwrite in a zoomed entry box.
Why we love it
Penultimate is easy to use and has a lot of useful features to make sure that you only have the best handwriting on your digital tablet.
Record, write, or type your notes with a handy app for iPad.
Notes Plus
For those who like note-taking apps for iPad that have a voice recording feature.
If you are looking for a note-taking app for iPad that has an array of features, check out Notes Plus. This handy tool lets you record audio, hand-write notes, insert images, and import or export your notes. You can also convert handwritten notes to text, use the built-in browser for quick research, and annotate PDF and DOC documents.
Why we love it
Notes Plus is a solid option if you want to record your notes, annotate documents, and have handwriting features all in one app for iPad.
Put away the keyboard and take notes with your own hand-writing.
Pen and Paper
For those who like to jot notes, draw doodles, and capture thoughts without a keyboard.
Pen and Paper by Vivid Apps is an intuitive app with great writing, drawing, and other note-capturing features. Select your page style, add, move, and rotate shapes, pick your color and brush size, and erase when needed. For sharing, you can upload or export, send to iTunes, or save to your photo album. You can also easily import files.
Why we love it
If you like jotting down notes, drawing doodles, and want an easy app to do it, Pen and Paper by Vivid Apps is a great tool.