Explore, puzzle, and… run a cat cafe.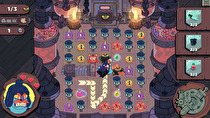 In addition to Among Us, three other titles will be dropping on the eShop shortly:
As predicted, Grindstone from Capy Games will be out on Switch for US$19.99 or equivalent. The action puzzle game was previously a hit on Apple Arcade.
Point and click adventure When The Past Was Around tells a story of love in a realm of disjointed memories. It retails for US$8.49.
Calico is a low-stress 3D adventure game where players play as magical girls and run a cat cafe. It will be US$11.99 at launch.